The machine builder from Saal is acquired by Hangzhou Honghua Digital Technology Stock Company Ltd. Graf von Westphalen, owner and managing director of Texpa Maschinenbau GmbH & Co. KG (in future Texpa GmbH) announced at an extraordinary works meeting on Sept. 13, 2022, that he had transferred 100% of the shares to the Chinese partner.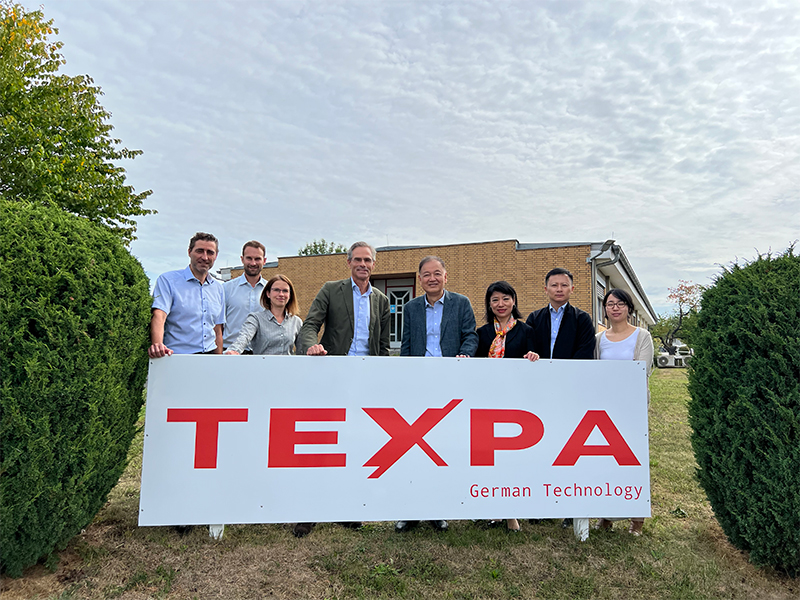 From left to right: Jürgen Franz, Christian Rott, Christina Stoiber, Johannes Graf von Westphalen, Xiatuan Jin, Minyue Dong, Xi Wang, Shiyun Feng
Hangzhou Honghua Digital is a listed company specializing in research and development, manufacturing, sales and after-sales service of digital inkjet printing technology and equipment. Its products and solutions are used in the textile industry, among others, under the market name of Atexco. The company's research and development capabilities and technology have achieved a world-leading position, so the similarities with Texpa, the world leader in home textile manufacturing equipment, are obvious.
In his address to the employees, Graf Westphalen emphasized that he had found a strong partner in Honghua, precisely in order to regain supremacy in the Chinese market. During the pandemic, this market, which is so important in the textile industry, could only be served to a very limited extent and local machine manufacturers were able to gain market share. The common goal of Westphalen and Mr. Jin (General Manager of Honghua) is now to become number 1 in China again, as Texpa is in the rest of the world.
Mr. Jin did not miss the opportunity to travel to Saal and address the employees directly. He introduced Honghua Company and talked about his motivation to choose Texpa. As a technology enthusiastic managing director, he is proud to now have the "BMW" among home textile machinery in his portfolio and to further develop it together with the team in Germany.
It is important to Mr. Jin to maintain the German location in Saal an der Saale and to secure the jobs here in the long term due to the joint significantly higher impact force. Graf von Westphalen will remain the managing director of Texpa in Germany for at least another 2 years. Together with the new partner, a strategic further development should take place in order to cope even better with the worldwide economic difficulties of today. Also the management team could be won for a continuous continuation, "as usual". The experienced team at the German location will now drive further development and growth together with Honghua in China.
Graf von Westphalen would like to thank all employees for their work so far – especially in the last years before the global disruption of the supply chains, record sales were reached, to which every single member of the Texpa team contributed. This team can now look forward to further successes under the leadership of Graf Westphalen and will receive great support from Honghua to fully exploit the growth potential.