TEXPA's flat sheet production machines provide a fully automated solution.
The high-performance machines offer quality, multi-functionality and are characterised by an exceptional durability.
Due to their high flexibility, our machines produce all common sizes of flat sheets from a wide range of fabric qualities. The sheets are hemmed length- and crosswise, crosscut, the labels are automatically dispensed and the readymade product stacked at the end.
On request, a pillow prefabrication unit can be integrated into the machine, as well as a folding unit with an inspection section which folds the finished sheets to the desired retail size.
Our flat sheet production line is equipped with a modern touch screen that allows you to easily operate the machine and monitor all settings. As with all our machines, remote maintenance is as well available for this machine.
Decide now in favour of a TEXPA flat sheet production line. You will receive a high-quality system which ensures high quality products.
Convince yourself!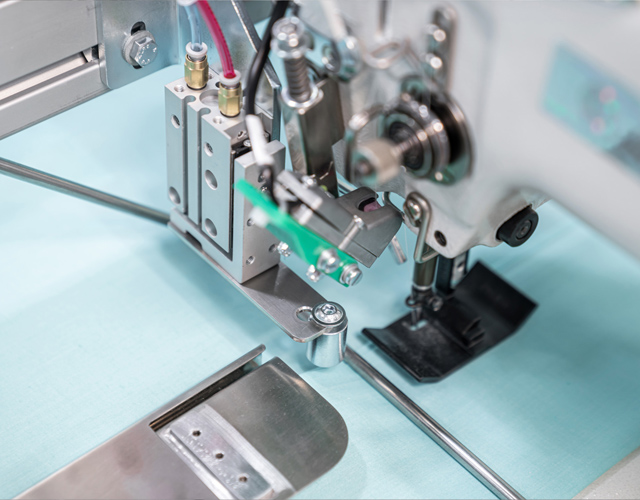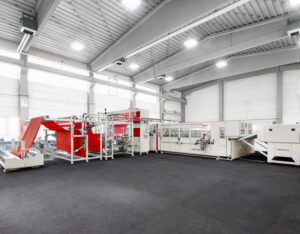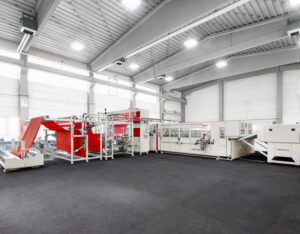 Flat sheets
Performance characteristics
Cross cutting
Label dispensing
Stacking
Cross hemming
Length hemming
Inspection
Folding
Cardboard dispensing
Advantages in production
High output
High flexibility
Remote maintenance
Simple operation
Data input on the touchscreen menu
Possibility to inspect the manufactured article