With our systems for the production of fitted sheets you receive a fully automatic production line. The newly designed system impresses with an unique technology for corner formation thus enabling a permanently high output.
The fitted sheets are hemmed lengthwise and crosswise, cut crosswise and the labels are applied. Before the corners (45° or 90°) are formed the elastic bands are sewn in either on 2 sides or on all 4 sides. If desired, a folding unit with inspection area can be added which folds the finished sheets to the desired retail size.
Due to their high flexibility, our machines produce all common sizes of fitted sheets from a wide range of fabric qualities, suitable for all common mattresses in enduringly consistent quality.
All settings are made via the touchscreen which is easy to operate and provides all relevant data for monitoring the machine parameters. As with all our machines, remote maintenance is also possible for this fitted sheet production line which in turn contributes to its economic efficiency and high availability.
Benefit from our many years of experience and purchase a TEXPA fitted sheet production line now!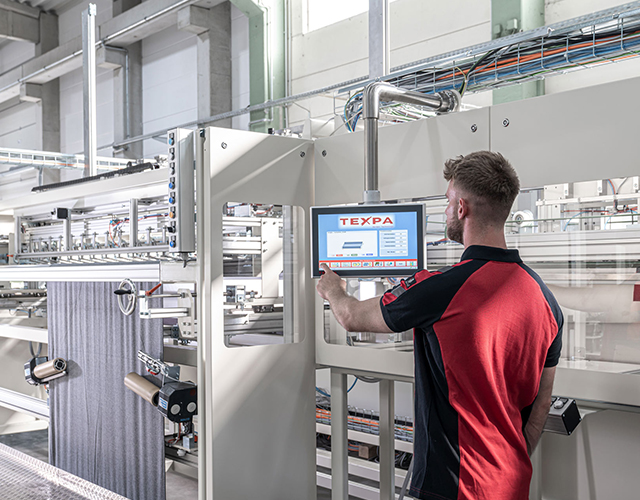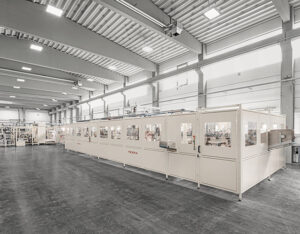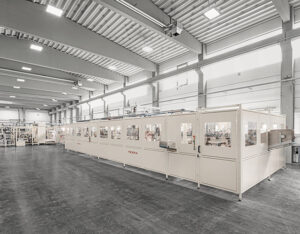 Fitted sheets
Performance characteristics
Cross cutting
Label dispensing
Stacking
Working method: length/length and width/length
Corner forming
Corner sewing
Advantages in production
High output
High flexibility
Remote maintenance
Simple operation
Data input on the touchscreen menu